Lack of knowledge and information gap are the main causes of religious conflicts, leaders of various organisations said. They tell about difficulties and build up dialogue with each other within the framework of the interreligious council.
---
Kyrgyzstan has summarised the first year of work of the interreligious council established at the State Commission for Religious Affairs. It consists of representatives of almost all registered religious organisations, which have held a series of forums in all the regions of the country.

On December 5, religious leaders gathered at the press breakfast in Bishkek to share their opinions and announce objectives for the future. All of them have emphasised the significance of such platform for the interreligious dialogue.Partners of the project are the State Commission for Religious Affairs in Kyrgyzstan,OSCE Programme Office in Bishkek, the Representation office of the Institute for War & Peace Reporting (IWPR) in Kyrgyzstan, and AVEP Public Association. During the year, representatives of religious organisations have held forums throughout Kyrgyzstan to establish dialogue with each other and to involve local governments in this work within the framework of the interreligious council.
"It's important that we, heads of such organisations, can get together and hold a dialogue, listen to and understand each other. And if we, as leaders, can find common ground, people in our communities will be able to interact with each other and live in peace," Sergei Sirotin, chairman of the Assemblies of God of Kyrgyzstan ("Kudai Zhamaaty"), said.
Afterwards, the event turned into the conference "Interreligious dialogue in Kyrgyzstan". In his speech, Pierre von Arx, head of the OSCE Programme Office in Bishkek, has noted that such interaction is needed not only to fight stereotypes and prejudices, but also to create a positive message together.
"It has taken us one year to establish this interreligious dialogue, to create this council and shape a positive attitude towards it. Not every project can reach this level for one year only, I must say. It demonstrates the readiness of all religious leaders to dialogue and the desire not only of the state, but also of the Kyrgyz society to build the identity based on tolerance and respect," he said.
When summarising the first year results, many representatives of religious minorities have noted that their members are often misunderstood by their neighbours, colleagues and local governments.
"Sometimes, local conflicts occur. Sometimes, they hinder the activities of preaching houses, they don't want us to hold worship services, and local governments often don't support us. Although, in many cases they understand their responsibility and try to resolve the conflict," said Petr Shmidt, deputy chairman of the union of Evangelical Christian Baptist churches.
According to him, the interreligious council enables the leaders of organisations to establish interpersonal relations, discuss difficulties. This is relevant in view of a few conflicts on religious grounds that have occurred in Kyrgyzstan in recent years.
In mid-October, a 25-year-old man who practised Christianity was beaten in the village of Tamchy, Issyk Kul region. Although the department of interior affairs (UVD) said the incident was not based on religion, the family insisted that the conflict was caused by religion.
In 2016, the residents of the village of Sary Talaa, Ala Buka district of Zhalal Abad region, and local imams didn't let the family of the fellow villager, Kanygul Satybaldieva, to bury her in the local graveyard because the deceased had practised Christian baptism.
For more details please see: Fate of Kyrgyz Proselytes: Beaten, Buried Three Times
"Some activities of religious organisations cause suspicion in our society. Therefore, we need to strike a balance and exercise caution. In this regard, cooperative labour, meetings, elaboration of decisions are important and invaluable between religious organisations," said Aleksey Syromiatnikov, secretary of the Bishkek and Kyrgyzstan diocese.
And this cooperative labour has already delivered results. According to the head of the State Commission for Religious Affairs, Zaiyrbek Ergeshov, the branches of religious organisations have already started interacting with each other locally.
"Leaders of organisations have already prevented some conflicts in the regions. In Maili Suu, a Christian Kyrgyz woman was buried without involvement of the local authorities. Sometimes, heads of branches call police or us to solve domestic conflicts," Ergeshov said.
The state commission acts as a mediator between organisations under this project. According to him, the principle of secularism is not about the separation of church and state, but about the state's role as a mediator and giving an opportunity to exist to all players. Therefore, regional forums have been held in the discussion and dialogue format, where representatives of any faith could share their problems.
"Regions support our initiative. In mosques, we always tell what our religion says. And our religion says we should not discriminate against or restrict people's choice and inner convictions," Akimzhan Ergeshov, a representative of the Spiritual Directorate of the Muslims of Kyrgyzstan, said.
According to Erlan Bakiev, head of department of the Service for countering extremism and illegal migration of the Kyrgyz MVD (Ministry of Interior), religious extremism and radicalism have grown in recent years both in the world, and in Central Asia. This involves a risk of spread of violence and involvement of young people; therefore, it needs preventive measures.
"For 10 months this year, MVD has taken over a thousand of measures to prevent interreligious hatred. But it's hard to deal with this issue only by using the resources of law-enforcement bodies. To solve this problem, we need to consolidate our society and religious communities, which can convey the right message to the people," Bakiev said.
All participants of the conference have agreed on the need to raise awareness of people. By results of regional forums, many participants have noticed that the main cause of conflicts and religious misunderstanding is the lack of knowledge. And often that's exactly why law-enforcement bodies and local authorities have a prejudiced attitude towards religious minorities.
Also, it has been noted that awareness should be raised among the leaders of religious organisations. However, all information should be conveyed in a neutral way.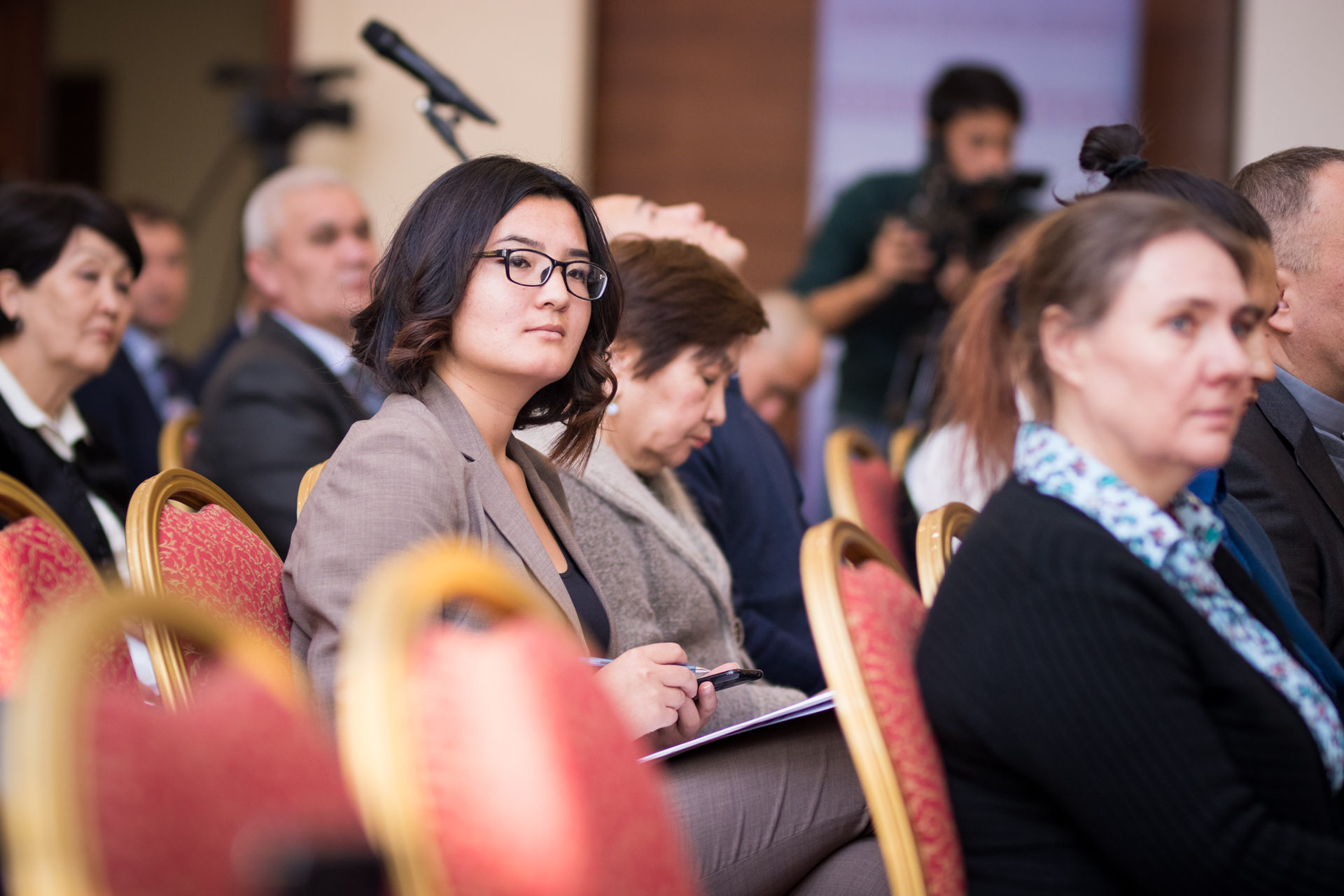 "We need to solve this issue by raising awareness. And the dialogue is just the beginning, a positive example. We need to meet often to get to know each other better, and then to convey this information to the people," said Malika Kartanbaeva, representative of the Baha'i community in Kyrgyzstan.
By results of the conference, participants have approved the interreligious council regulation, which outlines main objectives and tasks for the future, including promotion of tolerance, cooperation, prevention of radical ideas in the society and measures of interaction with state bodies. The council is planned to convene meetings at least four times a year, and resolutions shall be made by majority of votes.
---
This publication was produced under IWPR project «Forging links and raising voices to combat radicalization in Central Asia»