If last year the meeting of the Interfaith Council of Kyrgyzstan was more official and formal, this year the event was held in a more interactive and lively format.
---
Representatives of religious organizations took less than an hour to assemble a yurt. Well-coordinated work, synchronized actions, and now there's already established a tүndүk, it remains only to fit the frame with felt. Muslims and Buddhists, Lutherans and Baha'is, Orthodox and evangelists – representatives of different faiths participate in the process, and for some this is the first experience of assembling a yurt.
"From one side, the design is simple, but on the other hand there are such nuances that if you don't know, you won't be able to assemble it. This is a unique architectural work," says the representative of the Chamsen Buddhist community (Order of Nippondzan Mekhodzi) Alexey Shmyglya.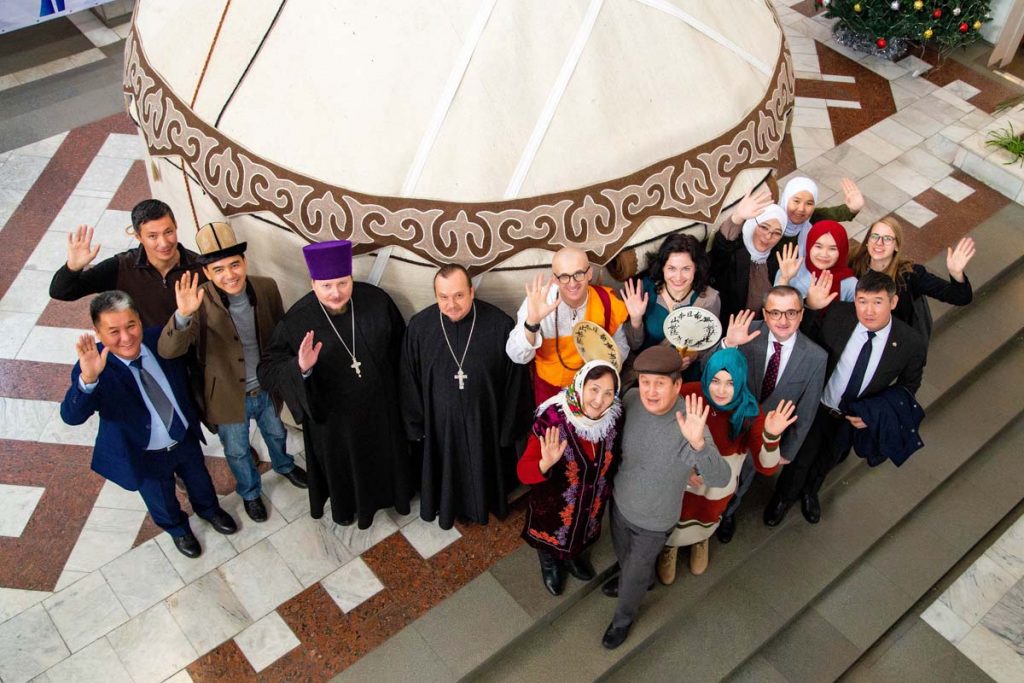 For more than two thousand years, the universal dwelling of nomads has served the Kyrgyz people faithfully and truthfully, and in the framework of the conference-festival "Listen to the ones who is close" symbolizes a common house for all citizens of Kyrgyzstan, regardless of religion or nationality. Confest summarizes the results of the second year of work of the interfaith council, which included representatives of almost all religious organizations registered in the country. But if last year the format of the event was more official and formal, then this year it is more interactive and lively.
According to participants, such format is much more effective. And the experience of events and the work of the interfaith council is being adopted by other countries.
"Since January 2019, we have taken the experience of the work of the Interfaith Council of Kyrgyzstan as the basis for promotion of a similar platform in Tajikistan. Thanks to this, in July of this year, the first interfaith conference took place involving representatives of various religious organizations of the country," said Abakhon Sultonazarov, IWPR Regional Director for Central Asia.
Side by side, representatives of different faiths held master classes for everyone who wanted to try something new, learn something or just have fun.
According to the head of the State Commission for Religious Affairs of Kyrgyzstan Zaiyrbek Ergeshov, for religious organizations this is opportunity to tell about themselves.
"Today, every denomination shows who they are, what they do, what they strive for. And such an interactive approach, in my opinion, is more effective and practical. Not only leaders, but also representatives, members of these organizations, have opportunity to know each other better and exchange experience," Ergeshov says.
You could try your hand, for example, in calligraphy and write in Arabic script quote from the founder of the Bahá'ís faith Bahá'u'lláh: The light of unity is so powerful that it can illuminate the whole earth."
"Here people are different, of different religions and absolutely all representatives come to the table. Today I had a lot of Muslims. And although there was a program specifically to write a quote from Bahá'u'lláh, I gave them freedom and someone wrote something of their own. And all this is in unity and kindness, and it unites us very much," says Elvira Zeynalova, representative of the Baha'i community.
The Orthodox Church of Kyrgyzstan offered to show creative skills and paint gingerbread cookies. They make baked goods and icing themselves – there is a bakery at the church, which, in addition to gingerbread, also bakes bread, rolls and even cakes. According to Viktor Shtyrkin, deputy head of the youth department at the Bishkek and Kyrgyzstan diocese, they specifically did not make any templates and blanks to enable participants to show freedom of creativity and expression, from which unity and harmony are born.
"Citizenship what unites us – we are all Kyrgyz. We are citizens of our republic, in which we all grew up. All represented religions here bring light, goodness, peace and support to people. We are a multinational country that can afford such meetings," Shtyrkin shares.
Representatives of the progressive public association of women "Mutakalim" were especially popular. The girls presented a master class on tying a scarf, and painting a mehendi – patterns on the hands from henna.
"Mehendi is widespread in the Arab countries than ours. They used it from ancient times when they escorted men on a long journey or made a pilgrimage. Now they make mehendi mainly for brides – they draw beautiful patterns when they are getting married," says Zhyldyz Zhayloobekova, curator of Mutakalima.
According to her, Muslims, as the religious majority in Kyrgyzstan, should be in good relations with all faiths and not forget that everyone decides what to believe.
"You can't say that only your religion is true, others can have a completely different point of view. Therefore, it would be good if everyone calls for peace on behalf of their religion," adds Zhayloobekova.
At the same with the master classes, an art class was held for children, where they could listen to the fairy tale "Akbar" based on the work of Ch. Aitmatov, as well as draw with the artist Cholpon Zhakypova.
"Children should also know that Kyrgyzstan is a multiconfessional state and we maintain diversity. But within this diversity there must be unity so we form a civic identity. We all get sick, we all work for the good of our country," said Ergeshov.
December is a time summarizing results and Interfaith Council also makes its own. During this year, various events were held with purpose to establish a dialogue between representatives of different faiths and prevent conflicts. According to the chairman of the Union of Churches of Evangelical Christians-Baptists of Kyrgyzstan, Alexander Shumilin, this is bearing fruit – the ice that used to be melting. But the tension remains and there is still work to do.
"The positive thing is that the state, at least, is trying to help – takes part, cares. Before we didn't feel it so much, today government agencies are really trying to do everything to prevent conflicts in the future. There is some kind of preventive work, conversations with the local population," says Shumilin.
"The problem is that one thing is the center of Bishkek and another is a village somewhere in the region. And it would be good to hold such events not only in Bishkek, but also among the rural population especially. Because in reality Bishkek lives in a slightly different world," says Alexey Shmyglya.
At the same time, he adds that he had experience of traveling in Kyrgyzstan with a drum and prayer, and he had no particular problems. Although there were some nuances that you need to work with, but in general, people are very friendly.
"The only thing – the problem is that in mentality of ordinary people there is a very tight connection between ethnicity and religiosity. If, for example, a person with kyrgyz ethnicity is suddenly a representative of another religion, not Islam, then he may have problems," adds a Buddhist monk.
In the framework of the Confest Belief Talks was held in the format of the world-famous TED Talk lectures, where representatives of various religious organizations spoke on topics of education, peace and harmony.
Nine participants – nine inspirational speeches on children's rights; how to exchange the capital for Tokmok for the sake of an educational program for adolescents; how sports and overcoming oneself help get rid of hostility and become more open; that you should not wait for the right moment and put off life for later. The stories of people who put their time and effort to make this world a bit better and kinder.
I want our girls to become public figures, politicians who influence the decision-making process; scientists making important scientific discoveries useful to society. Not only women, but the entire population will benefit from this.
Zhamal Frontbek Kyzy, head of the progressive public association of women "Mutakalim"
Each parent wants to grow a successful person from their child. But for this you have to see in them a personality – a person, albeit a small one, but with their rights. Let's be honest, raising children we often go beyond the scope, become rude, do not show interest in them, we use the same approach to everyone.
Akimzhan Ergeshov, representative of the Spiritual Border of Muslims in Kyrgyz Republic
The teenage period is an amazing, special period in the life of every person. We are responsible for every teenager, because he takes an example from us. If you pay attention to 10 teenagers and support them as an older friend, then you put a brick in the foundation of our common future.
Malika Kartanbaeva, representative of the Baha'i community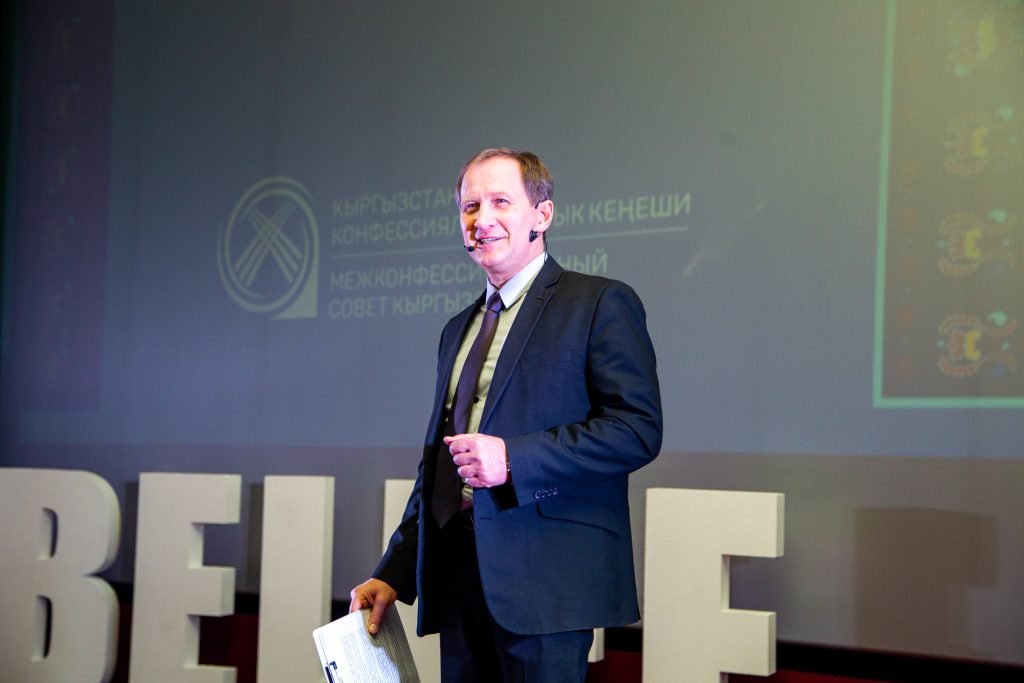 Peace-building is a manifestation of qualities in little things in everyday routine, in relationships with people around us, wherever we are – in the circle of loved ones or among those who look at life differently.
Alexander Mikhailov, representative of the religious organization "Kudai Zhaamaty"
I know it is not necessary to be a doctor, have a higher education or a special position in society in order to bring a joy to people. To do this, only one thing is needed – to have a kind and loving heart. One small step forward is enough to change someone's life.
Ryspek Zaidov, Representative of the Alliance of Kyrgyz Churches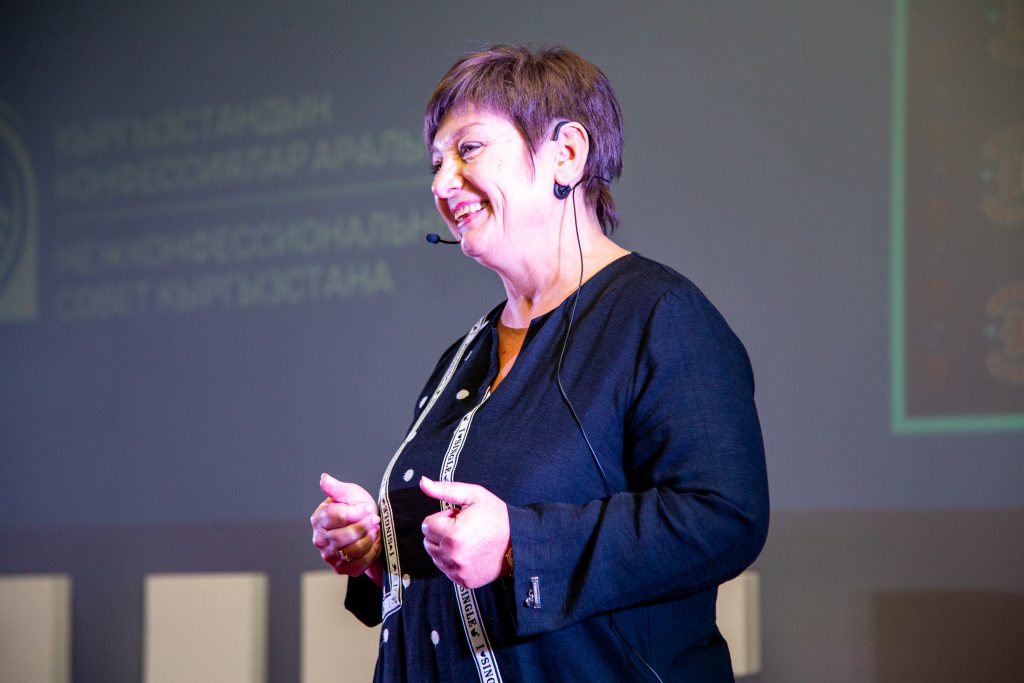 Today, it is not easy for students or teachers. Our world and society have changed a lot, but attention, desire to support, inspire, create an atmosphere of joy are still appreciated. My recipe for happiness is to create a territory of joy around you, every day filling a cup of love for each other.
Olga Prokofieva, Representative of Seventh-day Adventist Christian
For the first time such events are held in Kyrgyzstan in this format. And the effect is felt as soon as you get here – lively, interesting communication, regardless of religion and belief. Such format instills religious tolerance, according to one of the participants, student-religious scholar Bektur.
"I would like that representatives of each religion will learn not only their religion, but also other religions. At the end, if you know one religion, you do not know a single said one the founders of religious studies," he says.